Overseas Students Take Part in Summer Camp to Enhance Cultural Cognition
2018-11-15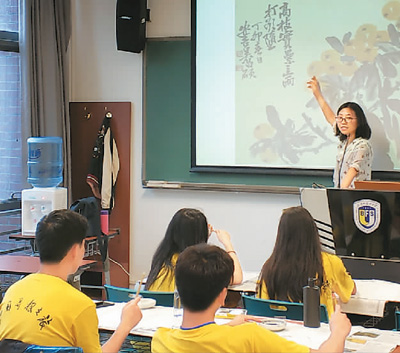 Students take Chinese painting class. [People.cn]
Some 110 overseas Chinese students from eight countries recently participated in the 15-day 2018 Overseas Chinese Youth Language and Culture Camp at Beijing Foreign Studies University to enhance cultural identity.
According to the organizers, the students were from countries including Russia, the Netherlands, Canada, the U.S., Portugal, Slovakia, Thailand and Spain.
Han Weizhu, a native of Heilongjiang province, northeast China, was born and raised in Russia. She has been studying Chinese at a Chinese school founded by her mother for nearly seven years. This was her third time to participate in the summer camp in the hope to stay more closer to her motherland.
In addition, Han usually visits relatives in China with her parents every year and has traveled in Xiamen, Dalian, Guizhou and other places. "I can see the beautiful rivers and mountains here and experience Chinese culture and history," said Han.
The 15-year-old Chen Xinya is from Portugal and studies Chinese at a local Chinese School in north Portugal. The rich language and cultural activities she experienced at the summer camp, such as calligraphy, painting and paper-cutting, have greatly aroused her interest.
Xiao Zhuozhi is a Chinese student who studies Chinese at the Sanjia International School in Canada. During traditional Chinese festivals, she participates in cultural activities such as poetry reading and Hanfu dancing organized by the school. She also learned about some Chinese cultural icons from Chinese textbooks, including the Great Wall, the Summer Palace, the Forbidden City and the giant panda.
Xiao said that the activity allowed her to get a closer look at China, taste Chinese food, and make friends from all over the world. It also provided opportunities for overseas Chinese students from all over the world to communicate with each other. She expressed her hope of spreading Chinese culture overseas.
Wang Hao is from Slovakia and is currently studying in high school. He studied Chinese at home from a young age and went to the Slovak Chinese School for further improvement for more than six years.
In Wang's opinion, listening and speaking Chinese are easy, whilst it is difficult to write. He said he had to work hard since it would contribute to his applying for universities.
Lu Rongyu, the lead teacher of the Slovakian group, is a founder of the Slovak Chinese School. According to her, although the number of the students who study Chinese has been increasing based on the original 30, the absolute quantity is still low.
However, the proportion of students who study Chinese accounts for a large proportion compared with the situation in other countries, Lu added.
In Lu's opinion, with the development of China, organizations have all increased their investment in overseas Chinese education. In addition, it is particularly important for overseas Chinese themselves to attach great importance to Chinese education.
As a Chinese cultural communicator, Lu hopes to continue to participate in the summer camp to improve children's cognition of their native country, their application of Chinese and their understanding of Chinese culture; strengthen their self-confidence in Chinese culture; and, enable them to be great learners and communicators of the profound Chinese culture.
(Source: Youth.cn/Translated and edited by Women of China)