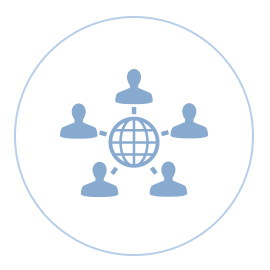 Chinese language website
Social media accounts
Automation marketing support
SEO, buzzing, bookmarking, online events, etc.
Introduction

There is a great story about China being a "great internet world" or a "great intranet world". We might live in the most innovative, dynamic and exciting online life here in China. But you must come in rather than staying out of the wall to enjoy all of this.
You cannot own or register a website or a social network account, such as WeChat, as a foreign institution in China. You can engage us to register and manage those online marketing tools for you through a cooperation or licensing agreement. You will still be fully behind the driving wheels while we support and service you to do so. Our partnership will ensure you to achieve your marketing objectives in full compliance of the local regulations and rules.
If you have already being using marketing automation schemes, you might encounter the problem of not be able to send off the message to the targeted audience in China through email systems after all the sophisticated data analysis and management process. We are here to assist you to walk the "last mile". Our services will allow you to send off your message to millions of target audience. Meanwhile, do you know that less than 20% of the targeted parents and students are still receiving emails in China? We can assist you to send off your message with other more popular options.
There are several service levels of our cooperation, ranging from just providing and managing the infrastructure to a fully-licensed operation with your specific terms and policies. With our services and support, you will not only save costs and improve efficiency by engaging resources in-country but will also increase the effectiveness of those tools by taking advantage of our local market experience and online cultural knowledge. Our service includes a monthly analytical report.